Newsletter
Shanghai
Tel: 021 20228288
Fax: 021 20228299

contact.sh@tavola.cn

Barazzutti Roberto: Executive Chef of TAVOLA SHANGHAI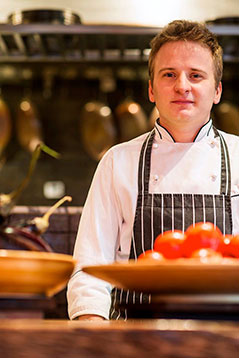 Shanghai TAVOLA Italian Dining sincerely recommend to you our new Executive Chef from Italy, Barazzutti Roberto.

Excellence rarely comes without great effort. Roberto has been passionate about cooking since he was young. After graduating from the culinary school in his hometown Udine, he decided to join the world famous chefs academy " ALMA Scuola Internazionale di Cucina Italiana " , directed by the chef Gualtiero Marchesi. Terminated with success the program, Roberto initiated his professional career at the " Hotel Lorenzetti " (4 stars hotel) in Madonna di Campiglio, Trento.

With his unique insight into Italian cuisine, Roberto soon found himself in the kitchen of "Piazza Duomo", a Michelin Three star restaurant in the heart of Alba, Piedmont. With extraordinary cooking skills and innate creative inspiration, Then he moved on to the two Michelin star "Ristorante Cracco" in Milan as chef de partie of fish selection.

In 2011, at an early age of 24, Roberto became one of the youngest sous chefs working at the two Michelin stars restaurant "Arnold Pucher" in Austria.

Today, Roberto has joined Shanghai TAVOLA Italian Dining, where he creates modern and healthy Italian cuisine by choosing high quality ingredients and following strict cooking procedures. At TAVOLA, a wide variety of dishes are offered, including the world famous pizza baked on-site in a handmade wooden oven. There are also semi-buffet business set lunches, theme sets and various special culinary cuisines, among which the Naples style pizza is one of the best authentic pizzas you ever eat, using special hand-picked Buffalo cheese.

Blessed with boundless passion and extraordinary creativity for cooking, Roberto is dedicated to providing diners with a broad range of world-class Italian gourmet cuisine at Shanghai TAVOLA . Your dinning experience here will be sumptuous and exceptional.