Newsletter
Beijing
Tel: 010 85325068
Fax: 010 85325078

contact.bj@tavola.cn
Scan our QR code



Check our reviews
Executive Chef of Beijing TAVOLA Italian Dining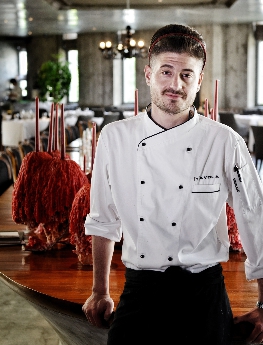 Chef Marco Santagata is the youngest chef to grace the kitchen at TAVOLA and he has already started to shake up the kitchen and the menu. On the second day after he arrived in Beijing, Chef Marco went straight to Sanyuanli Market. "I believe that looking around a market is the best way to understand the food, flavours, and way of life of a city," he says. This market trip inspired him to include local ingredients such as purple sweet potato, red beans, and tofu in the dishes he has designed for TAVOLA's new menu.

Even at a young age, Marco knew he wanted to be a chef. Like many young Italian boys, his two passions were food and football. After completing his professional training, he began to rise through the ranks of the restaurant kitchens he worked in and after just seven years, he became sous chef of Michelin-starred Ristorante Mamma on the island of Capri. It was then that he attracted the attention of the team behind the luxurious Hong Hotel in Shanghai and the China chapter of his journey begun.

Since arriving in Beijing, Chef Marco has made TAVOLA's open kitchen both his home and the stage on which he performs. No matter where they sit in the restaurant, guests can watch Chef Marco and his team working in the kitchen; with a show like this, it's hard to argue that cooking isn't an art.

Chef Marco doesn't keep his skills confined to the kitchen. "I love to talk with customers and find out what they think of the food — whether their feedback is good or not! A chef hasn't finished his work until he comes face to face with the person eating his food," Marco says.

Chef Marco's youth works both for and against him. In the past, people have raised doubts over whether such a young chef can lead a kitchen. "Age is just a number," Marco responds. "I might be young but I have been working in this industry for a long time and have held multiple different positions in multiple different kitchens. My passion and knowledge are what makes me a great chef."

Chef Marco's youth gives him the strength and courage to test the boundaries of his own skill and creativity in the kitchen; he is always trying out new techniques and ingredients, as the new menu at TAVOLA attests.

Boasting dishes that combine a hearty serving of Italian passion with a dose of creative flair, the menu is sure to delight new and old customers alike, especially when served alongside wines paired by TAVOLA's knowledgeable restaurant manager, Frank.