Newsletter
Beijing
Tel: 010 85325068
Fax: 010 85325078

contact.bj@tavola.cn
Scan our QR code



Check our reviews
Executive Chef of Beijing TAVOLA Italian Dining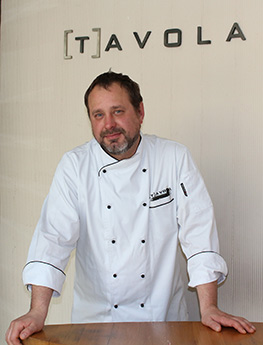 Mauro Portaluppi, comes from Milan, Italy, born in 1975. Affected by his family, he was fond of cooking since childhood. When he was 8, because the school meal was not delicious, he went back home everyday at noon time with his twin brother and cooked Pizza or Pasta by themselves. Although they repeated setbacks but they enjoyed it. Their uncle owned 4 restaurants in Milan said that cook is a life-long benifit occupation, and it built up his dream to become a chef.

With passion for cooking and longings for the future, he enrolled in the famous Carlo Porta Professional Hotel College in Milan when he was 16 (1990) to study cooking courses systematically, and it opened his chef occupation career.

Over the past 20 years, began from Commis Chef, he experienced all the positions and operating posts in Italian kitchen, and worked for many well-known restaurants and hotels, such as Michelin Star restaurant "Al Genovese(1994)" and "Restaurant Scaletta(2005)" in Milan; 5 Star Marriott Hotel(1998)and Principe di Savoia Hotel(1999-2003)in Milan; 5 Star Membership Hotel Yacht Club Costa Smeralda in Sardinia Island (2004-2007), and the 5 Star luxury Hotel Sassongher in the north of Italy(2013-2014), etc.

During the 4 years working in Principe di Savoia Hotel, he was under the tutelage of the famed Chef Romano Resen who once was the chef of British Queen Elizabeth, and gained a solid foundation and exquisite skill. Yacht Club in Sardinia owned by prince Karim Aga Khan, when he worked there as Sous Chef, he cooperated with the celebrated Chef Silvano Sollai to cook for King of Spain, Prince of Belgium and many other distinguished personages, and obtained an extensive acclaims.

Mauro thinks that there is difference between south and north style and also the traditional and modern style in Italian food, only by adhering to mix the south and north style, and to bring forth the new through the old ones, could satisfy the increasing diet demand of the current customers, and live up to the trend of the world catering development. Therefore, his cooking concept is, not only to highlight the food taste, but also pay attention to the freshness and health of the ingredients, and all the same with the fine appearance of the dish.

Mauro wishes that through his efforts in Beijing TAVOLA Italian Dining, more and more customers could experience the real overflowed Italian food.